December 9th, 2011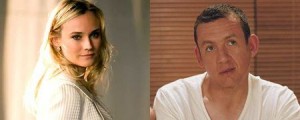 Dany Boon & Diane Kruger se donneront la réplique dans « Fly me to the moon », le prochain long métrage de Pascal Chaumeil (« L'Arnacoeur »).
Fly me to the Moon raconte l'histoire d'une jeune femme de 30 ans, heureuse et épanouie à tout point de vue. Mais sa famille est frappée d'une terrible malédiction : chaque mariage se termine en divorce. Alors, quand son fiancé veut lui mettre la bague au doigt, elle part à la recherche d'un inconnu avec qui elle pourrait se marier (et divorcer) avant afin de contourner la malédiction
Both comments and pings are currently closed.
RSS 2.0
Comments are closed!